Show/Venue: Waitress at the Brooks Atkinson Theatre
Date: Tuesday, May 10th, 2016 @ 7:30pm
Starring: Jessie Mueller, Keala Settle, Kimiko Glenn, Nick Codero, Drew Gehling, Christopher Fitzgerald
Website: http://waitressthemusical.com
I remember watching the movie "Waitress," starring Keri Russell years ago and could vaguely remember the plot; girl in small town, abusive husband, gets pregnant, but bakes amazing pies. Somehow, I kept thinking about the Sarah Michelle Gellar movie, "Simply Irresistible," but cheesy this show was not. At BroadwayCon in January, I was lucky enough to get a seat at the panel for Waitress with Diane Paulus - Director, Sara Bareilles – Composer/Lyricist and Jessie Nelson – Writer, as they discussed how the musical came to be with Blake Ross, the Editor in Chief of Playbill Magazine. What an experience to be around a group of talented women making this story come to life on the Broadway stage! The audience was even treated to a performance of "She Used To Be Mine" by Sara Bareilles, that didn't leave a dry eye in the house!
I was fortunate enough to get tickets to see Waitress shortly after their Opening Night and before the Tony Awards. So, I wrangled up my friend, Meghan from work and we caught a Tuesday night show. There was an air of excitement outside of the theatre, as many theatre & Sara Bareilles fans were lining up to go inside. Once we walked into the lobby, we were greeted with the sweet smells of pie, which was baking in an oven just inside the theater. After a quick stop to the merchandise booth, where I got a Waitress pie pin, Meghan and I found our seats and quickly got to Snapchatting our experience; mostly to use the Waitress geofilter.
The show opened with a little song from Sara, reminding the audience to turn off their cell phones, then the stage came alive and Jessie Mueller (Tony Winner for Beautiful, Nice Work If You Can Get It) entered as Jenna. If you've listened to Sara's version of the songs, then Jessie's voice comes as a pleasant variation on "What's Inside." That familiar "sugar, butter, flour" floats through the air with a slight Southern drawl and sets up the story inside Joe's Diner for the story that will unfold over the next two plus hours.
As the chords to "Opening Up" play, we're introduced to all the characters in Joe's Diner; Cal (Eric Anderson, Kinky Boots, Rocky, The Last Ship), Jenna's boss, Becky (the brilliant Keala Settle, Les Miserables, Hands on a Hardbody, Priscilla Queen of the Desert), and Dawn (Kimiko Glenn, who you might know from Orange Is The New Black, where she plays Brook Soso, and in her Broadway debut), as her two fellow waitresses. Together, they introduce Jenna's new pie of the day and the girls get the diner open and ready for customers. While lamenting over the same daily routines, they prep pies and setup the tables, while the ensemble dances around them, all through some amazing prop work; fake pies and all.
Towards the end of the number, Jenna is unable to focus on her customers – including the diner's cantankerous owner Joe (Dakin Matthews, The Audience, Rocky), because she's nauseous. As she runs to the bathroom, Becky and Dawn come to her rescue and persuade her to take a pregnancy test, but to focus on "The Negative." In a matter of minutes, Jenna finds out that she is pregnant as Cal bellows for his employees to get back to work. As soon as Jenna gets back into the diner, her abusive and abrasive husband, Earl (Nick Codero, Bullets Over Broadway, Brooklynite) comes barging in. After causing a ruckus, Earl leaves and Jenna finds solace in crafting and creating her pies; while trying to figure out what to do with her life ("What Baking Can Do"). This number was originally a song called "Door Number Three" from Sara's album and the original production in Boston, but the familiar melodies have been kept for this number and we see Jenna use her passion for baking and memories of her mother to make her miserable life just a bit better, funny how creating something can help.
In a sort of day dream, Jenna then imagines herself being surrounded by other pregnant women while she waits at the OB-GYN office and they welcome her to "Club Knocked Up." Inside the doctor's office, Jenna is waiting to confirm her pregnancy with her doctor's favorite pie, when a new, handsome, young male doctor enters. She's confused, as this was not who she was expecting to see in her vulnerable state. He introduces himself as Dr. Pomatter (Drew Gehling, Jersey Boys) and that he's the new doctor in town. Flustered and attracted to the new doctor, Jenna leaves abruptly and abandons the pie, even though Dr. Pomatter doesn't eat sugar. However, after Jenna leaves his office he can't resist the smell and the impression she's left on him; he takes a big bite of the pie and is smitten.
Back at the diner, Becky and Dawn give Jenna a baby book, so she can write down all the memories she's going to make with her baby. Jenna still isn't sure how she feels about becoming a mother and instead, redirects their conversation to Dawn's challenges entering the world of online dating. It's here that Kimiko gets the chance to shine in "When He Sees Me," as she expresses her fears of the dating world and what she could run into. During this number, she floats through all the tables of customers expressing her fears; such as how he eats Oreos or if he could be colorblind. This number featured some more great work by the ensemble as they play off of and react to Dawn's ridiculous excuses to why she can't date or fall for a guy.
After work, Jenna is waiting for the bus when Dr. Pomatter shows up. It's here that he confesses that he ate the pie she left at the office and they chat. They may have very different lives, but there's something brewing between them, as they wait on the bus stop bench.
Finally at home, Jenna is fearful of Earl, who has been drinking alone at home and has been fired from his job. Jenna says something that aggravates him and as he raises his hand to her, when she finally blurts out that she's pregnant and his demeanor changes instantly. Earl takes this opportunity to remind Jenna of how in love they were when they were younger and sings to her ("You Will Still Be Mine").
Another day at the diner, but this day Dawn has finally received a message on her dating profile! She doesn't know what to do, as no guy has ever paid attention to her in this way. She asks Jenna to make her a special pie to bring with her on her date. As Jenna is baking she begins to day dream and wonder what her life would be like away from Earl with her baby ("A Soft Place to Land"). She remembers that Joe told her about a pie baking contest in a town not that far away and imagines what she could do if she won the prize money.
Jenna is woken up from her day dream, as Ogie (Christopher Fitzgerald, Tony Nominated for this role, Wicked OBC), Dawn's love interest enters and declares his love for her. In the brilliant "Never Ever Getting Rid Of Me" Ogie shows Dawn just how right they are for each other and how he will never leave her side and be everything to her. Each of them have their own quirks, among them Civil War reenactment, but they really are a great fit for each other.
Inspired by Dawn & Ogie's love, Jenna goes to meet Dr. Pomatter. Their attraction is undeniable and even though they know what they're doing is wrong ("Bad Idea"), they toy with each other's feelings and kiss in the end of Act One.
At the top of Act Two, Jenna catches Becky in the diner kitchen making out with Cal. She cannot believe her own eyes and is quick to judge and point her finger at Becky. Keala gets her chance to shine as she sings "I Didn't Plan It" and explains to Jenna about what a hypocrite she's being; Becky's husband is disabled and Cal gives her something that she can't get physically at home. Becky still loves her husband, but she still needs someone to take care of her, as she takes care of him. She even points out how Jenna is behaving with Dr. Pomatter and her own issues with Earl, as the two argue.
As Jenna falls back into Dr. Pomatter's arms, the audience sees that each waitress is engaged in their own passionate relationship; Jenna and the doctor, Becky and Cal, and Dawn and Ogie ("Bad Idea (Reprise)"). Their relationship progresses, but Jenna knows she should try and end their affair; yet she's drawn to Dr. Pomatter even more. She speaks to her baby, sharing her hopes, wishes and dreams for her daughter ("You Matter to Me").
Even though Jenna's personal life might be in turmoil, Dawn & Ogie are celebrating their love and getting married at the diner. After the sweet ceremony, Ogie finds a way to profess his love to Dawn through puns and his own oddball style, thus "I Love You Like A Table." As her friends encourage her creativity to enter the pie contest, Joe dances with Jenna and gives her some advice ("Take It from an Old Man").
Returning home from the celebration, Jenna finds that Earl has found that she has been hiding all her tips, in order to make it to the pie contest. Earl erupts in a rage, how could his wife be hiding money from him, when he lost his job!? In a desperate attempt to save herself and the baby, Jenna tells him that she was hiding the money to buy a new crib for the baby. Suddenly, Earl's demeanor changes and he stumbles off to bed, leaving Jenna alone.
Lamenting over her situation and how her escape has now been thwarted, Jenna talks to her baby again ("Dear Baby") and paces around her living room while singing about what her life used to be and wondering how she got here in life. This song, "She Used To Be Mine," easily is the most beautiful song of the show.
Jenna is finally ready to have her baby and in the "Contraction Ballet," the audience sees her home turn into the hospital as her friends and Dr. Pomatter gather for the arrival of her child. As the nurse hands over her daughter, Jenna decides to name her Lulu. As Jenna realizes that her life has only changed for the better ("Everything Changes"), she tells Earl that she doesn't love him and is going to leave him. As she prepares to leave the hospital, she finds out that Joe has passed away, leaving her the diner for her own use. Jenna realizes that she may not make it to the pie contest, but she can make something wonderful out of the diner and change her life for the better.
Back at the diner, the scene changes as the waitresses and Cal start prepping the diner to open ("Opening Up (Reprise)"). The sign changes from "Joe's Diner" to "Lulu's Pie Diner" and a toddler Lulu (Claire & McKenna Keane) runs onto the stage and into her mother's arms.
I was fully prepared to cry more at the show, but there were so many great visual cues, maybe I didn't get as emotionally invested as when I was listening to Sara Bareilles at BroadwayCon. I had such a great time watching this story come to life, especially after the buzz from the original showing in Boston and the panel from BroadwayCon. I was very impressed by Kimiko Glenn's singing and ability to go through all the emotions of Dawn in the show. I also love that she's an Asian-American actress cast in a colorblind role! We need to see more Asians on stage as "normal" Americans!
What can I say about Jessie Mueller? I thought she was great in Nice Work If You Can Get It, where she replaced Kelli O'Hara and easily out performed Matthew Broderick, and then I fell for her again as Carole King in Beautiful. Something about the quality of her voice brought so many new colors to the role of Jenna vs. Sara on her album.
Since I saw the show just after the Tony nominations, I was really surprised that I had not been to a show with Christopher Fitzgerald in it! What a fun experience to see one of the original cast members from Wicked in his Tony nominated role! He brought just the right amount of quirk and fun to Ogie, including an impressive leap over the back of a chair and dancing on a table!
As Earl, Nick Codero, could easily be one of those actors that you dislike, which only means he's doing his job well! Luckily, I have seen him perform in a few other shows, Bullets Over Broadway, where he was a clever gangster, and in one of my favorite Off-Broadway shows, Brooklynite, where he played yet another villain-esque character who was trying to get the secret to getting real superpowers!
As for the other cast members, Keala Settle was one of my favorite actors when I saw the unfortunate musical that was Hands on a Hardbody, a few years ago. That woman can belt! She's a perfect fit for the role of Becky; just the right amount of sass and bravado! I wish I would have seen her as the Mistress of the House in Les Miserables last year. Overall, a great night of theatre and I can't Waitress to go see this show again!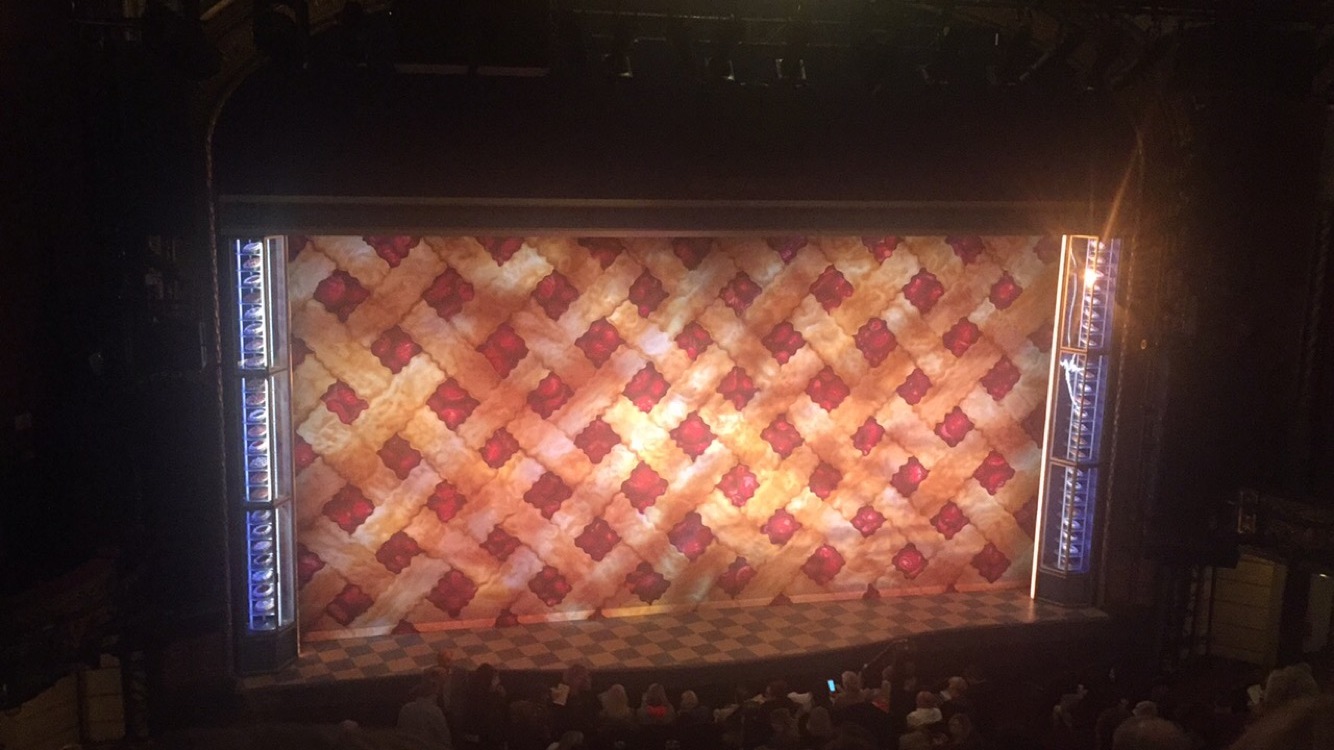 Musical Numbers:
Act One:
What's Inside
Opening Up
The Negative
What Baking Can Do
Club Knocked Up
When He Sees Me
It Only Takes a Taste
You Will Still Be Mine
A Soft Place to Land
Never Ever Getting Rid of Me
Bad Idea
Act Two:
I Didn't Plan It
Bad Idea (Reprise)
You Matter to Me
I Love You Like a Table
Take It From an Old Man
She Used to Be Mine
Everything Changes
Opening Up (Finale)