Show/Venue: American Psycho at the Gerald Schoenfeld Theatre
Date: Tuesday, May 31st, 2016 @ 7pm
Starring: Benjamin Walker, Jennifer Damiano, Alice Ripley, Theo Stockman, Heléne Yorke
Website: http://americanpsychothemusical.com/
I know very little about American Psycho the movie or the book, in fact, I had to read the summary on Wikipedia before going to see this show, just so I would get the gist of the plot. However, I did know that I with a stellar cast and Duncan Sheik behind the music, I was in for a great night! Yes, I decided to go only after the show announced that they would be closing in the first week of June.
As I took my seat in the Mezzanine, I noticed a lot of empty seats, but the set was amazing. A very clean, white room in perspective; so the back of the room faded into the back of the stage, the audience was set to be introduced to Patrick Bateman (Benjamin Walker, Bloody, Bloody Andrew Jackson) and his "ripped body." Mr. Bateman appears in only tiny white briefs and explains his morning routine ("Opening [Morning Routine]"). Through some tongue-in-cheek dialogue, Patrick describes some high end items that would have been the top of the line in the 1980's, including his Sony Walkman.
As Patrick heads into work, the sides of the set revolve into his office at Pierce & Pierce banking ("Selling Out"). He is greeted by his secretary, Jean (Jennifer Damiano, Next to Normal), and she performs "Everybody Wants to Rule the World", a cover of the Tears for Fears song. Patrick wants to know more about the big Fisher account, which all of Patrick's co-workers have been talking about. Jean has no information on the account, but reminds Patrick about his lunch date with his co-workers, Timothy Price (Theo Stockman, American Idiot), Craig McDermott (Alex Michael Stoll, If/Then, West Side Story), Luis Carruthers (Jordan Dean, Mamma Mia!) and David Van Patten (Dave Thomas Brown, Bridges of Madison County 1st Nat'l Tour and Patrick Bateman understudy).
As the men talk about their tailored suits and the next hot restaurant to dine at, Paul Owen (Drew Moerlein in his Broadway debut) appears and lets is be known that he has landed the Fisher account and a reservation at the hottest restaurant in NYC, Dorsia. In an attempt to save face, Patrick and his co-workers flaunt their business cards, only to again, be one-upped by Paul ("Cards"). In some of the most brilliant staging and choreography, the men jump onto LED lit tables and streams of air pumped onto the stage makes it appear as if their business cards are levitating & spinning. The song cleverly brings together the status symbols on their business cards; card stock, color and font. (I even noticed that the Stage Door to the Schoenfeld was done over to look like Patrick Bateman's business card.)
Then as if to add insult to injury, Paul mistakes Patrick for another banker, Marcus Halberstam and mocks Patrick Bateman. To prove a point, Patrick then invites Paul to his upcoming birthday party, being thrown by Patrick's girlfriend, Evelyn Williams (Heléne Yorke, Bullets Over Broadway) and her best friend, Courtney Lawrence (Morgan Weed in her Broadway debut); who also happens to be Luis' girlfriend. As Evelyn laments about her odd numbered dinner party, Courtney and their girlfriends wax on about what to wear to the party and name drop several designers, including Manolo Blahnik, Isaac Mizrahi and Bill Blass ("You Are What You Wear"). However, to appease Evelyn, Patrick invites Jean to the party, so there will be an even number of guests.
Evelyn is annoyed as Patrick & Tim arrive fashionably late to the party. The guests are dull by Patrick's standards and he ends his birthday party by stabbing his birthday cake with a giant knife. After the party, Patrick & Tim head out to Tunnel to indulge in coke & women ("True Faith"/"Killing Time"). As Patrick leaves the club, he realizes how empty his own life is and promises to never go out to the clubs again. The cast then performs a haunting version of Phil Collins' "In the Air Tonight") while Patrick offers a homeless man money, before making fun of him and stabbing him to death.
Later on at the gym, the guys objectify their female instructor, while complimenting each other on their own physical appearances ("Hardbody"). After the gym, we learn that Patrick is having an affair with Courtney; but she wants to end their "friends with benefits" situation as she feels guilty for Evelyn and Luis. Angry at Courtney, Patrick goes back to the gym, where he encounters Luis and tries to strangle him. Luis thinks that Patrick has developed feelings for him and comes onto him, as Patrick leaves the gym, extremely put off by Luis' actions.
Patrick and Evelyn are attending a Broadway performance of Les Miserables, where during the show's intermission Evelyn brings up the idea of marriage ("If We Get Married"). Patrick can't imagine getting married and after the show heads out to the Meatpacking District, where he picks up two hookers and decides to tell them that his name is Paul Owen. A threesome ensues, BDSM and all ("Not a Common Man"), as Patrick starts to give into his own dark thoughts.
Flash forward to Christmas Eve at Pierce & Pierce, as Patrick is telling Jean about Les Miserables and discussing their plans for the holidays. After work, Patrick heads to Evelyn's over the top Christmas party with his mother (Alice Ripley, Next to Normal, Side Show), whom Evelyn is sure hates her. At the party, Patrick goes on a drug & alcohol in order to be numb to the whole situation ("Mistletoe Alert"). It's then that Paul Owen arrives at the party and Patrick begins to fill with rage, as Paul has everything he wants. He invites Paul over to his apartment, as Paul still thinks he is Marcus, and they dance to "Hip to Be Square." Patrick slips something into Paul's drink and Patrick begins a speech about Huey Lewis & the News, he then proceeds to murder Paul with an ax. (If you're anything like me and nervous at the thought of blood, the murder scene is done in such a creative way, as a film comes down over the stage and as Patrick hacks away at Paul, splatters of red appear on the film. During intermission, you can watch the crew clean up the blood and restore Patrick's apartment to the blindingly white room it once was.)
Coming up on Act II, Patrick takes Paul's body to another building that he owns & disposes of it. Then he enters Paul's apartment and sets up a voicemail, stating that Paul is traveling to London for a few weeks to work on the Fisher account ("Clean"). As the months go on, Patrick goes a rampage, killing many others ("Killing Spree"). (During this performance, the cast appears in various white outfits as Patrick goes about murdering everyone around him. Patrick tries to admit his murders to his friends, but they just think he's joking.)
After not having seen her son in months, Mrs. Bateman shows up at Pierce & Pierce, wanting to have lunch with Patrick. As Patrick desperately tries to have Jean cancel the luncheon, Jean offers to come along to lunch, as it might do Patrick some good to actually speak with his mother. During their lunch, Mrs. Bateman tells Jean all sorts of cute stories about Patrick when he was younger ("Nice Thought") and Jean's crush on Patrick only deepens.
Back at Pierce & Pierce, a detective, Donald Kimball (Keith Randolph Smith, Fences), is in Patrick's office, wanting to know anything about Paul Owen's recent disappearance. Thinking that Kimball is onto him, Patrick avoids most of the questions and feigns concern for the well-being of Paul. As his anxiety grows, Patrick begs Evelyn to take a break from the city, so they plan an escape to the Hamptons. However, away from the city, Patrick's paranoia only worsens, as Evelyn thrives in the Hamptons culture ("At the End of an Island"). It's then that Patrick finally decides to marry Evelyn, just as soon as they can get back to NYC. Once he's back in the city, Patrick continues his killing spree, inviting the prostitutes from months ago to Paul's apartment, where he murders both of them ("I Am Back") and begins to accept his own demons.
While shopping at Barneys, Patrick runs into Luis and remembering their encounter at the gym, Luis tries to convince Patrick that they should leave their girlfriends and run away together. As Patrick feels his control on his own life slipping away, he asks Jean out to dinner, where she picks Dorsia and it only reminds Patrick that he can't seem to get a table there, but Paul could. As she gets ready for her dinner date, Jean thinks about what it is that makes her adore Patrick so much ("A Girl Before"). After dinner, Jean and Patrick hang out at his apartment and talk about her ambitions. Patrick intends to kill Jean that night, but she tells him that she has feeling for him and he shouts at her until she leaves. Left alone with his increasingly dangerous thoughts, Patrick calls Detective Kimball and confesses to murdering Paul and numbers others ("Clean Requiem").
Evelyn has arranged to have her & Patrick's engagement party at Tunnel and the stage lights up in amazing neon colors and the cast emerges in spectacular 80's club outfits ("Don't You Want Me", a brilliant cover of The Human League's song). While grabbing a drink at the bar, Patrick notices Detective Kimball and inquires if he received his voicemail. The detective thinks it was all a brilliant joke and laughs off Patrick's confession. Kimball states that Paul is alive and well, he even met with him in London. Doubting his own memory, Patrick goes to Paul's apartment expecting it to be full of his murder victims, but finds it untouched and immaculate. Patrick realizes that he will never aspire to the level of Paul and accepts his fate, marrying Evelyn ("This Is Not an Exit").
If I had even a small regret about not seeing Bloody, Bloody Andrew Jackson, it multiplied after seeing Benjamin Walker's performance as Patrick Bateman. Compelling and sexy, it was easy to empathize with this character, even if he is a psychopath! I guess that will be one of the next cast albums on my Amazon Wish List this Christmas.
Another bonus to seeing American Psycho was the reunion of Jenn Damiano & Alice Ripley, who famously played mother & daughter in Next to Normal, which was one of the first Broadway shows I saw after moving to NYC. Alice Ripley didn't really get a chance to shine, as she played several roles (Svetlana, Mrs. Bateman, Mrs. Wolfe). However, she did get some pretty big applause in her first scene where she enters as Svetlana, going to dry clean the blood out of one of Patrick's shirts. Jenn showed maturity from her previous Tony award nominated role in Next to Normal, and vulnerability as Jean. I was excited to get to chat with her in person, as she happened to be shopping in my store, shortly after I saw the show.
The other standouts for me were Theo Stockman, who I loved in American Idiot, and was deliciously snarky and slimy as Timothy Price. Then there was Jason Hite in his Broadway Debut, as Patrick's brother, Sean, but I first developed a Broadway crush on him, when I saw him in the New World Stage's production of Bare, where he played Jason.
I'm a little disappointed that there won't be a cast album for the American production, but the London recording is still great! It even has a cut track, "Oh Sri Lanka," and the original song order from that production. What really motivated me to finally write up this review was attending the 54 Below showcase of "American Psycho Sings Duncan Sheik," where some of the cast members performed numbers from this show, Spring Awakening and other Duncan Sheik songs. Even if Benjamin Walker wasn't at this showcase, Dave Thomas Brown, who understudied the role, got a chance to be Patrick and really got the chance to show off his skills. But the highlight of the night for me was the boys singing "Cards," closely followed by Alice Ripley performing "Barely Breathing," the song that all non-theatre lovers should know Duncan from.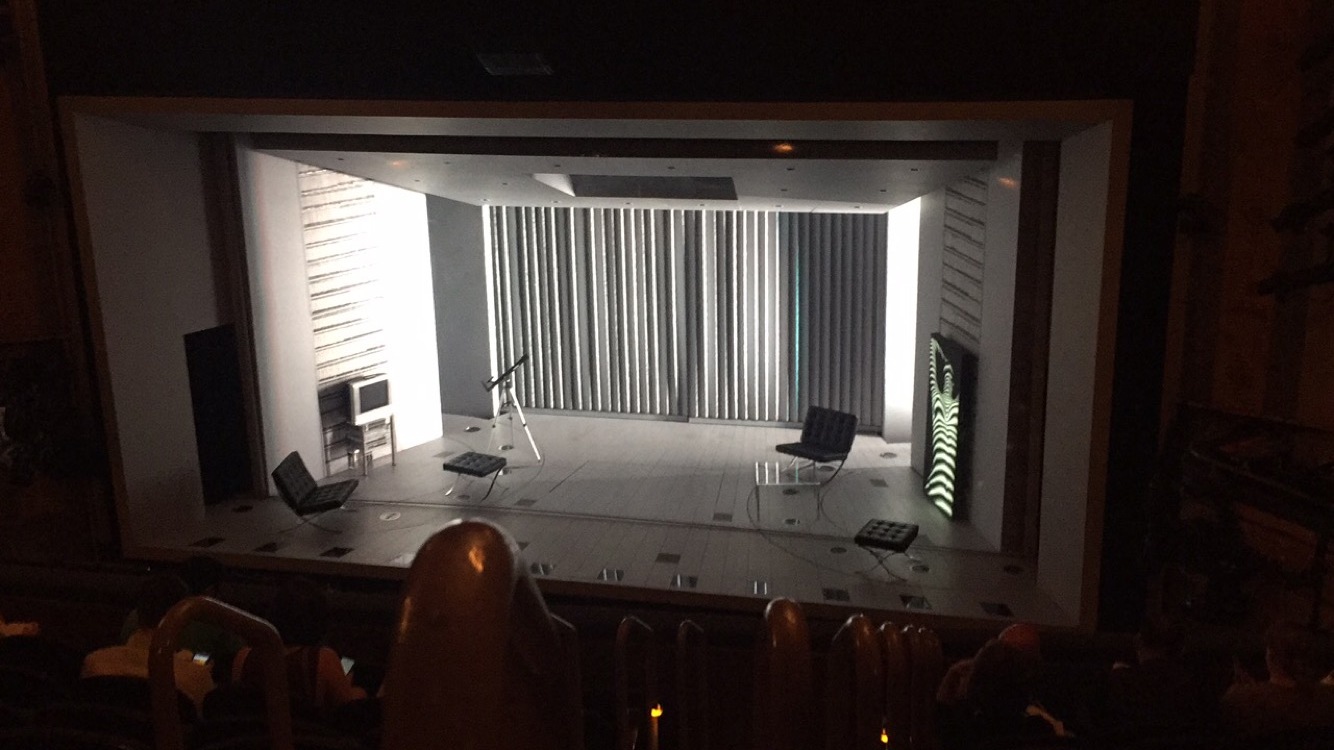 Musical Numbers:
Act One:
Opening (Morning Routine)
Selling Out
Everybody Wants to Rule the World
Cards
You Are What You Wear
True Faith
Killing Time
In the Air Tonight
Hardbody
You Are What You Wear (Reprise)
If We Get Married
Not a Common Man
Mistletoe Alert
Hip to Be Square
Act Two:
Killing Spree
Nice Thought
At the End of an Island
I Am Back
You Are What You Wear (Reprise)
A Girl Before
Clean Requiem
Don't You Want Me
This Is Not an End