Show/Venue: Allegiance at the Longacre Theatre
Date: Saturday, October 17th, 2015 @ 2pm
Starring: George Takei, Lea Salonga, Telly Leung, Katie Rose Clarke, Michael K. Lee
Website: http://allegiancemusical.com/
After months of waiting, I was finally able to see one of my Broadway crushes, Telly Leung, in Allegiance. I had been following the show's journey from the Old World Stages to Broadway and was hoping that he would stay attached to the show when it transferred to the Great White Way. And I lucked out! I was able to get a ticket to see the show in Previews (thanks, TodayTix) and got a front-row balcony seat for the Saturday matinee.
The show tells the story of the Kimura family, who are sent to an Internment Camp during World War II in the United States, as all Japanese-Americans were required to after the Japanese Government bombed Pearl Harbor. I found this story especially poignant, since in the American educational system, we were rarely taught about the "darker" side of the American Government during the war. I only found out about the Internment Camps, as I became fascinated by the story of Sadako Sasaki and the Thousand Paper Cranes in Elementary School. I started reading everything I could find about this subject, which was hard for my small library in Lincoln, Nebraska. This was when I first learned about the stables and barracks that Japanese-Americans were kept in during World War II.
The show opens in the early 00's, as Sam Kimura (George Takei), is remembering his life, after his sister has passed away. Through a flasthback, we see him as a young man, played by Telly Leung (Rent, Godspell), his sister, Kei, played by the brilliant Lea Salonga (Miss Saigon, the singing voice of Jasmine in Aladdin and Mulan in Mulan) and their father, Tatsuo Kimora, played by Christopheren Nomura; enjoying the summer sunshine with their friendsfamilies.
Not too long after, their whole lives change as the Japanese Government bombs Pearl Harbor and the United States Governments sends all citizens of Japanese ancestry to various camps across the Nation. The Kimura's are then forced to sell their farmland to a white neighbor for only $2,000 and take only what they can carry to the camp. Sammy immediately wants to enlist in the military with his friends, but they are informed that they cannot, due to their Nationality. As they arrive at the camp, they realize that they will be forced to live in old horse shelters, barns and barracks; giving up their freedom to comply with the "threat" of their allegiance to Japan vs. America.
Then the Kimura family finds themselves, including their elderly grandfather, Ojii-Chan, also played by Takei, in the Wyoming countryside, feeling imprisoned in their own Country for "their own good." Once in the camp, everyone struggles to live their day to day lives with so many restrictions. Ojii-Chan reminds them of an old Japanese phrase, "Gaman," meaning to have "endurance with dignity;" the Japanese will not be remembered for defiance, but for their ability to cooperate and show their loyalty to America. This song becomes the saying that will help everyone get through their tough times in the camp.
As the families settle into their barracks, there's a cute moment where Ojii-Chan wants to hang up his wind chimes. An American soldier then warns him about putting up "Jap" things in his barrack and he takes them down. Sammy hangs up an American flag to show their loyalty to America, but when the soldier leaves, Ojii-Chan hangs up the wind chimes underneath the flag, in a small act of defiance.
Feeling much like criminals, the Japanese families are provided with little food and supplies. When Ojii-Chan gets a cough, Sammy & Kei go to the camp's nurse to try and get some medicine. They notice that the soldiers are able to get relief, but not the prisoners. As Sammy chats with the Nurse, Hannah, played by Katie Rose Clarke (Wicked), he finds an ally and she sneaks him some cough syrup for his ailing grandfather.
In the number for "Get in the Game," (barring any High School Musical references) the families play a game of baseball to compare their experience to what happens in a good game of America's favorite past-time. As time passes in the camp, Kei begins to reexamine her life and how she has helped to raise her brother, Sammy, and he has so much ambition, but she has no direction in her life. She meets a young man, Frankie Suzuki (Michael K. Lee), who becomes of interest to her and becomes her confidant in the camp. It's here that Lea Salonga gets to shine in the number, "Higher," and I could feel the goosebumps as she hit the chords that reminded me of her voice while listening to Aladdin and Mulan throughout my childhood.
Shortly thereafter, the head of the Japanese Americans Citizens League (JACL), Mike Masaoka, played by Greg Watanabe, announces that there will be a "loyalty questionnaire" given to all individuals in the camps. Most of the questions are harmless, almost like census data, but one asks each person to show their allegiance to America or Japan. Those who mark their allegiance with America are kept in the camp or released, but those who mark their allegiance to Japan are sent to a much harsher camp; which is what happens to Kei & Sammy's father, Tatsuo. In a tender moment, Kei struggles with what to mark on her questionnaire and Ojii-Chan folds his questionnaire into a paper flower for Kei to wear.
Masaoka continues to fight for the Japanese-Americans' right to join the military to help show their allegiance and to fight the enemy in the war. The American Government agrees that they can serve in an "Asian Only" battalion and Sammy finally gets his wish to join. Sammy sees this as an opportunity to prove that he is an American, but the JACL has other plans. While they want to show their loyalty, their men are mostly sent into a suicide mission overseas. Back in Wyoming, Frankie opposes the draft for the Japanese-Americans and suffers for his opinions.
While Sammy is overseas, Hannah follows his journey through the news and keeps an eye out for Kei and Sammy's family, as she promised him. She wants desperately to show Mr. Kimura that his son is doing their country proud, by fighting and leading troops into battle. While Frankie is locked up in a higher security cell for expression his dissention to the war, Kei learns that she is pregnant.
The remainder of the show goes between the camp in Wyoming, Tatsuo's prison and Sammy overseas. As the war ends with the Americans bombing Hiroshima and Nagasaki with Atomic bombs, Sammy returns home. It's here that he finds out about Frankie and Kei's relationship and their baby. Infuriated that Kei did not tell him about anything while he was away, they argue and he leaves, separating himself from his family, until we see him again at the end of the show.
As not to spoil some of the twists in Act Two, I won't reveal what really led me to cry, but something about the whole Asian-American experience really pulled at my heartstrings. Growing up in the Midwest, where I was the only Asian kid in school until Middle School, really made me a bit defensive to other kids' comments and how they would ask me things like "why are your eyes so small?" Then the fact that this part of American History was not taught to me in school, only signaled to me that my culture's experiences in History were not important. I could empathize easily with the plight of the characters in Allegiance.
The show concludes with Sammy as an old man, played again by Takei, as he returns home to find out that his father has saved the LIFE Magazine with his portrait on the cover. It's here that Sammy realizes his father was proud of him, after all. Even if they did not get the chance to ever express it in person.
At the end of the show, I left with another Broadway crush, Michael K. Lee, whose performance as Frankie really drew me in. Between Telly Leung's performance, I wanted to side with him and fight for the Japanese-American's right to fight in the war, but I also agreed with Frankie, how could someone want to support a country that imprisoned them? I also enjoyed seeing Katie Rose Clarke, who I had seen in Wicked a few years ago, and her performance role as Nurse Hannah, really showed how some people had to walk the fine line between treating the Japanese-Americans as prisoners and being regular Americans. She brought subtle emotions through in a way, so different that Glinda; where I mostly felt annoyed by her character in that show.
And of course, as a "Fansie" (fan of Newsies), I was excited to see Aaron J. Albano in the ensemble, after seeing him in Newsies, Here Lives Love and The King & I. Since he plays various roles in the ensemble, he did not have many featured roles, but got a chance to act along with Telly in several scenes.
Watching Christopheren Nomura and George Takei, was at some times like watching my Dad tell a story. As he immigrated to the United States when he was only 18-years-old, to Midwest, it was interesting to see how some of his own experiences mirrored what the Japanese-Americans had to go through; prejudice, racism, discrimination, even though he came to the U.S. almost 20 years after World War II.
Normally, I'm not one to "Stage Door" and wait for autographs, but I wanted to see Telly and of course, Lea Salonga! I was able to get signatures from both of them, Katie Rose Clarke and Christopheren Nomura, but I couldn't catch Michael K. Lee over all the Filipino ladies shoving their way in front of me. The ladies went nuts when Lea came out, since she has been such an inspirational figure for them and recently appeared on the Philippines version of The Voice. I was able to speak to Telly for a bit, and mention that I had met him before at the Godspell Cast Album signing at Barnes & Noble a few years ago. (He thanked me for my support!)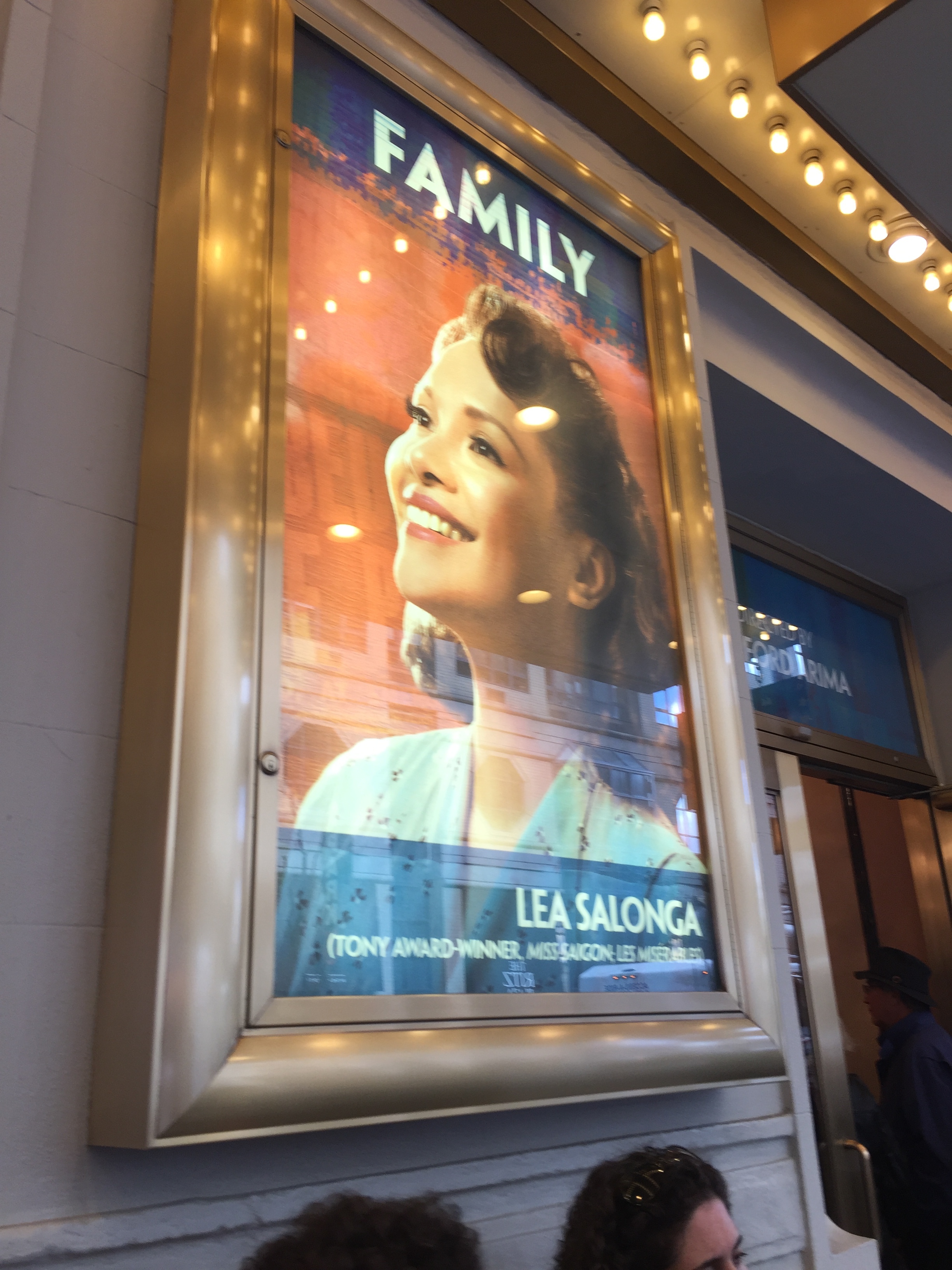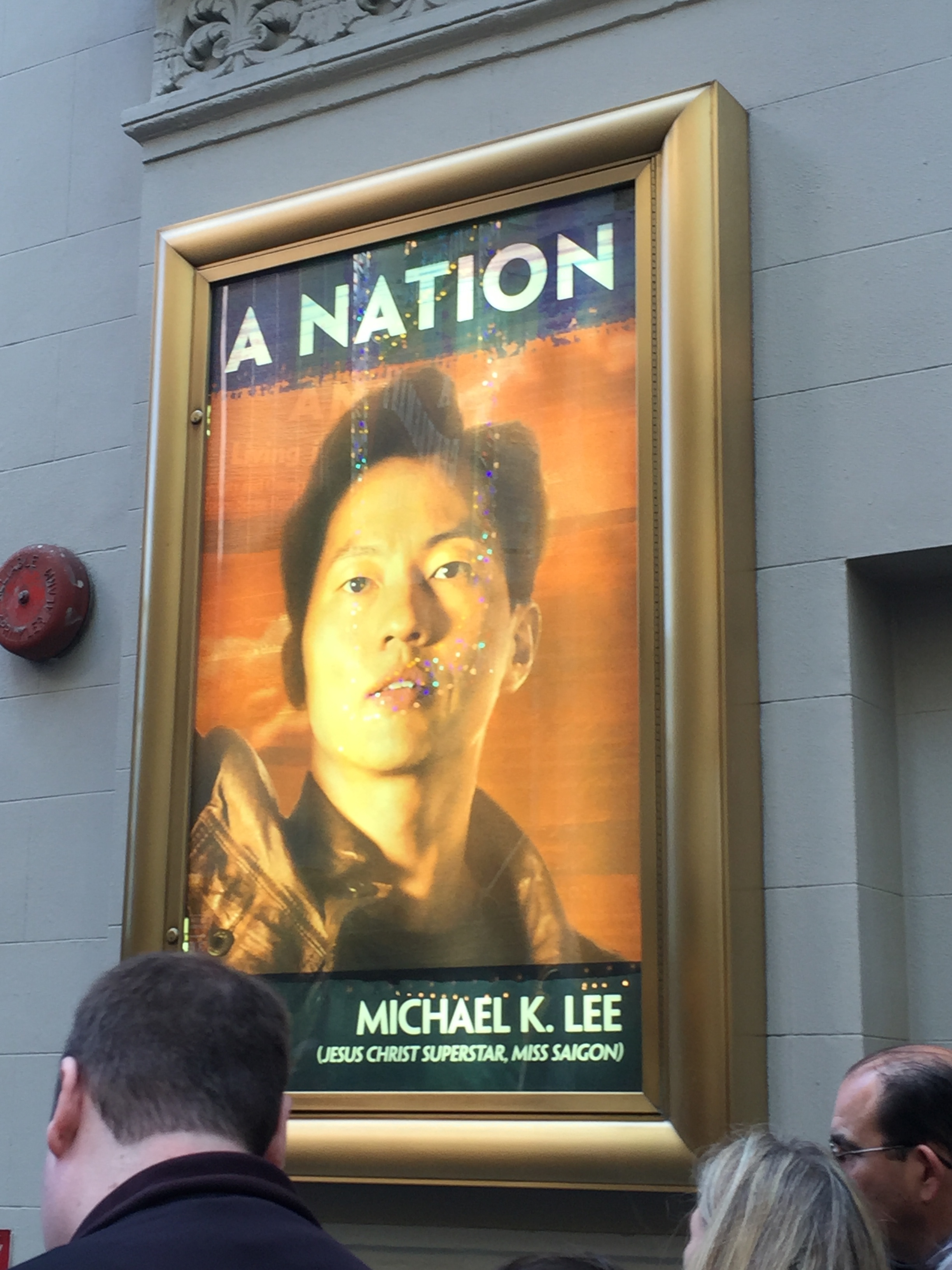 Musical Numbers:
Act One:
San Francisco, California – 2001
Prologue
Salinas, California – 1941
Wishes on the Wind
Do Not Fight the Storm
Heart Mountain Relocation Center, Wyoming/Washington, DC – 1942
Gaman
What Makes a Man
I Oughta Go
Get in the Game
Should I
Allegiance
Ishi Kara Ishi
Paradise
Higher
With You
Our Time Now
Act Two:
Pisa, Italy/Heart Mountain/Tule Lake/Vosges Mountains, France – 1944
Resist
Allegiance (Reprise)
This Is Not Over
Higher/Resist (Reprise)
Stronger Than Before
With You (Reprise)
Heart Mountain, Wyoming/Washington, DC/San Francisco, California – 1945
Nothing in Our Way
Ietsuita
442 Victory Swing
Higher/Ishi Kara Ishi (Reprise)
How Can You Go?
San Francisco, California – 2001
What Makes a Man/Wishes on the Wind (Reprise)