Although it may not count as travel, I had a out of my normal routine staycation in the city for the first ever BroadwayCon! Unfortunately, Winter Storm Jonas and about 28" of snow changed my plans slightly and I missed out on most of the Saturday evening activities. Regardless, I got my money's worth and here's a little recap of my experience at the convention.
Day One - Friday, January 22nd, 2016
The first ever convention for fans of Broadway!? Of course, I had to be there. So, I used my weekend off for January and spent it in Midtown at the Hilton, surrounded by other Broadway fans. In the midst of Winter Storm Jonas, I wasn't sure how many people would really turn out, but as soon as I arrived to the registration desk, I knew; a LOT! Several thousand fans showed up to the hotel over the weekend, dressed up as their favorite characters or wearing their favorite show's swag. (For day one, I chose to wear my Hamilton/Jefferson/Madison/Washington/Burr t-shirt.) The registration booths were organized by the first letter of your last name, but in reality, you could go to any booth and get in. I got my bag, Playbill and lanyard and was off to the fan meetups.
My first stop was to the "Party of One" meetup fors BroadwayCon attendees who came by themselves. I figured I might meet a friend or two that I could enjoy the convention with, but quickly realized it might be better for me to go about things on my own. Some of the attendees shared their social media information and we even made a few videos and SnapChats for theatre companies across the Nation.
Then it was on to more meetups. In my first dilemna of the weekend, I had to choose between a Newsies meetup, RENT meetup, Hamilton meetup and a SMASH meetup. After some careful deliberation, I decied to attend the SMASH meetup, where I sat next to a Heather Chandler from Australia and argued with others about Bombshell vs. Hit List (I'm #TeamHitList). We had a sing-a-long of "Let Me Be Your Star" and dubbed ourselves #SMASHtrash. I shared a story about walking by the SMASH set on a date.
I had a little bit of time to kill before the Spring Awakening panel, so I strolled through the Marketplace, got my photo taken on my own version of a Playbill and grabbed something to eat. The Spring Awakening panel, entitled "Deaf West, East," brought in the cast from the Broadway production and interpreters for the deaf actors to participate in the conversation. I loved getting a chance to hear Andy Mientus, Austin P. McKenzie, Katie Boeck, Krysta Rodriguez, Daniel Durant and Sandy Mae Frank talk about this updated version of the Tony Award winner. I also loved watching the cast talk about accessibility for deaf and other handicapped patrons to the theatre. Even Sandy Mae had to make an extra effort to be heard in the panel, as her interpreter had to interject to be heard and seen.
After "Deaf West, East," I had to decide between a King & I panel or "Changing My Major To Joan" with Roberta Colindrez from Fun Home, Ariana DeBose from HAMILTON, Pippin, So You Think You Can Dance and Maggie Keenan-Bolger. I opted for the Joan panel and kind of regretted my decision. What I thought was going to be a fun panel talking about their roles in shows and the LGBT community, turned into a type-casting and angry panel. I wanted to slink out, but after I sat in the second row, it was kind of hard to. The ladies brought up topics about being type cast, especially once they came out, and their own personal struggles. The panel ran long and I was scrambling to get to the Opening Number performance.
By the time I got to the MainStage lobby, a HUGE line had already formed. I thought being a "party of one" might be on my side. Nope. The line was a mess and wrapped around the lobby several times. The staff was telling everyone that VIP's were being let in first, then they would let in the General Passes (who were guaranteed seats) before those with Day Passes. Ugh. I was finally able to get in, but couldn't find a seat anywhere. I opted to stand by the back wall, so at least I could have a decent view. On my way to the back, I found Tyler Mount from Playbill and took a selfie with him. Then it was finally time for the Opening Number, which parodied many shows and featured lots of great actors & actresses. I thoroughly enjoyed the shout out to Schmackary's, since I grew up with their owner, Zachary Schmahl. Then, Anthony Rapp (who helped create BroadwayCon) appeared on the big screens with a surprise hello from Idina Menzel and the crowd erupted and I almost lost it! So much love and joy in one room!
After the Opening Number, I tried to stake out a closer seat for the Hamilton panel, which would be taking place in the same room. (Insert your own "Room Where It Happens" joke, if you'd like!) Blake Ross, the editor of Playbill, was moderating the panel with Lin-Manuel Miranda, Renee Elise Goldsberry, Phillippa Soo, Christopher Jackson, Leslie Odom Jr., Daveed Diggs, Jonathan Groff and Okieriette Onaodowan. Some of the actors talked about how they got involved with the show, their casting stories and favorite pieces, but the hands-down best part was when the person typing on the teleprompter was talking about Daveed's rapping career and left out one of the "p"'s in rapping. Oops. Then Lin was asked to freestyle a rap, which he closed out by saying "and when you're typing on the teleprompter don't drop a 'p'!" Brilliant.
Then I was ready to swoon over Matt Doyle at "I Was a Teenage Diva," but I guess he was unable to attend. However, I had great time watching old footage of Rob McClure, Ryann Redmond, Taylor Louderman and Lesli Margherita peforming and then having them sing for us!
The first day of BroadwayCon closed out with a reunion of the original cast of RENT, minus a few members. Idina sent over a message and everyone reminisced about Jonathon Larsen and his brilliant work. When the cast started talking about missing members of the original production, Jesse L. Martin's name came up. Immediately, Daphne Rubin-Vega got out her phone and FaceTime'd with Jesse. She showed the phone to the crowd who made him super emotional and then she passed the phone around to the other cast members and in a priceless moment, Jesse shrieked "Wilson!" when he spotted Wilson on the stage. How I desperately wanted them to sing "Seasons of Love," but then I knew I would not have been abel to control the tears. Not so bad for Day One.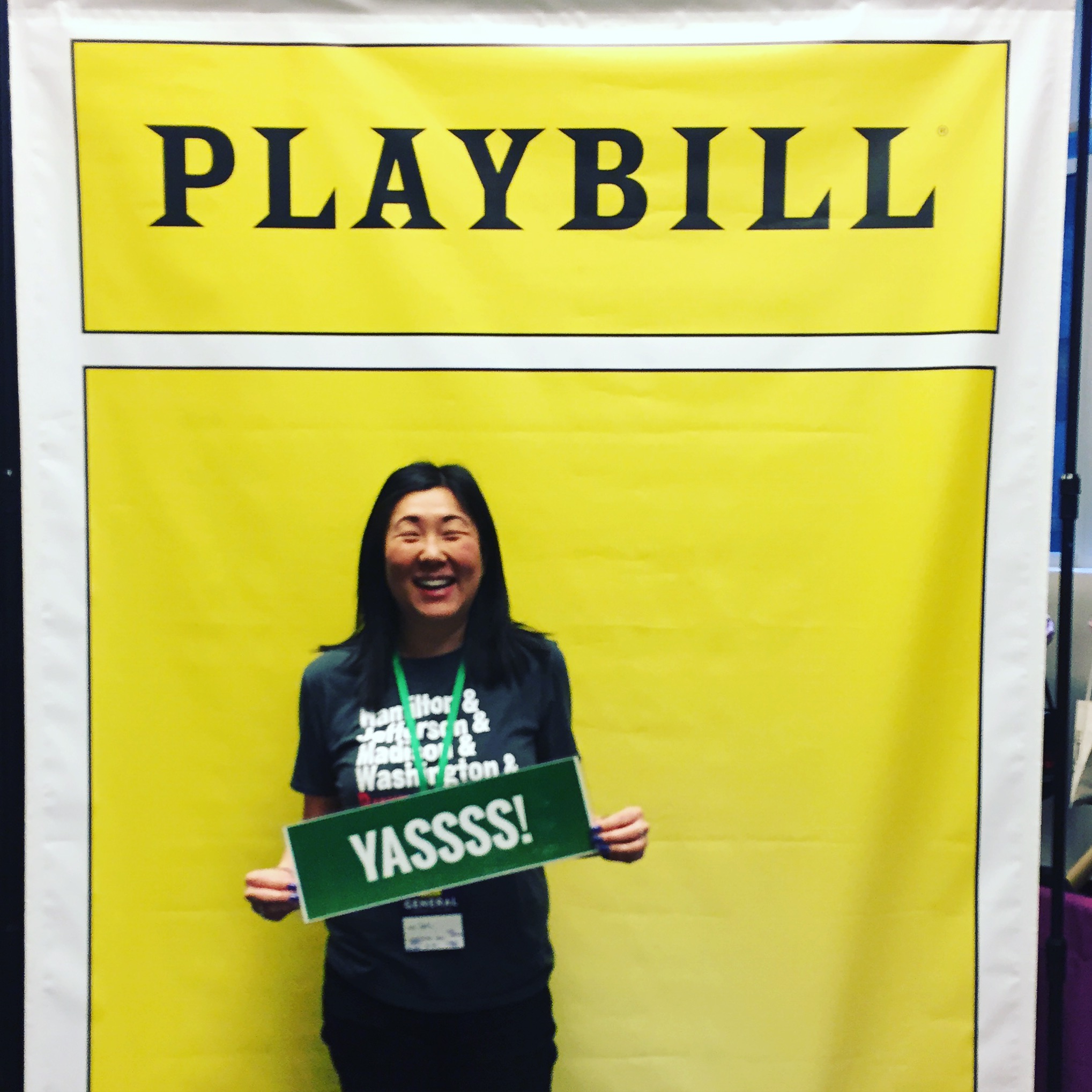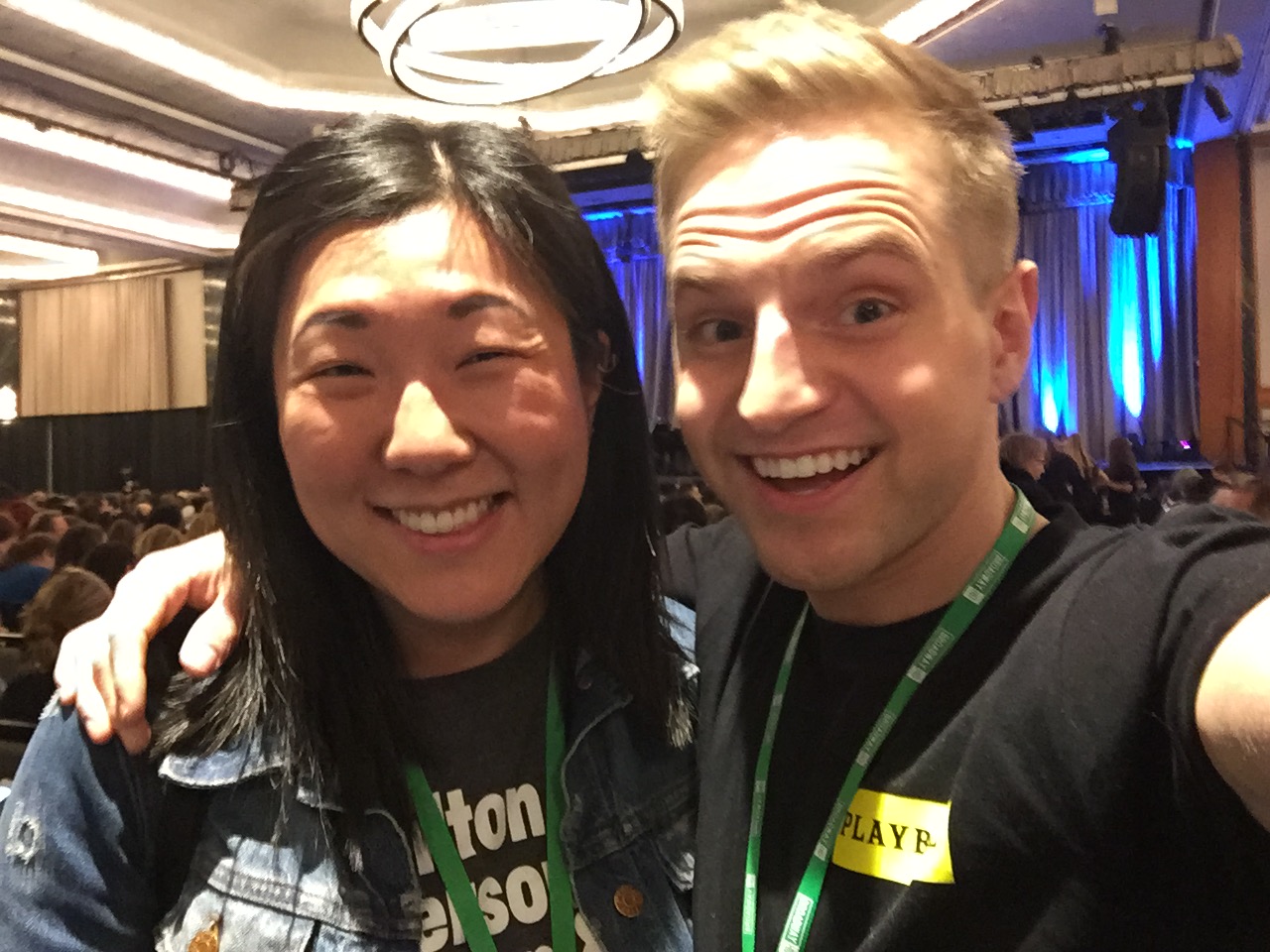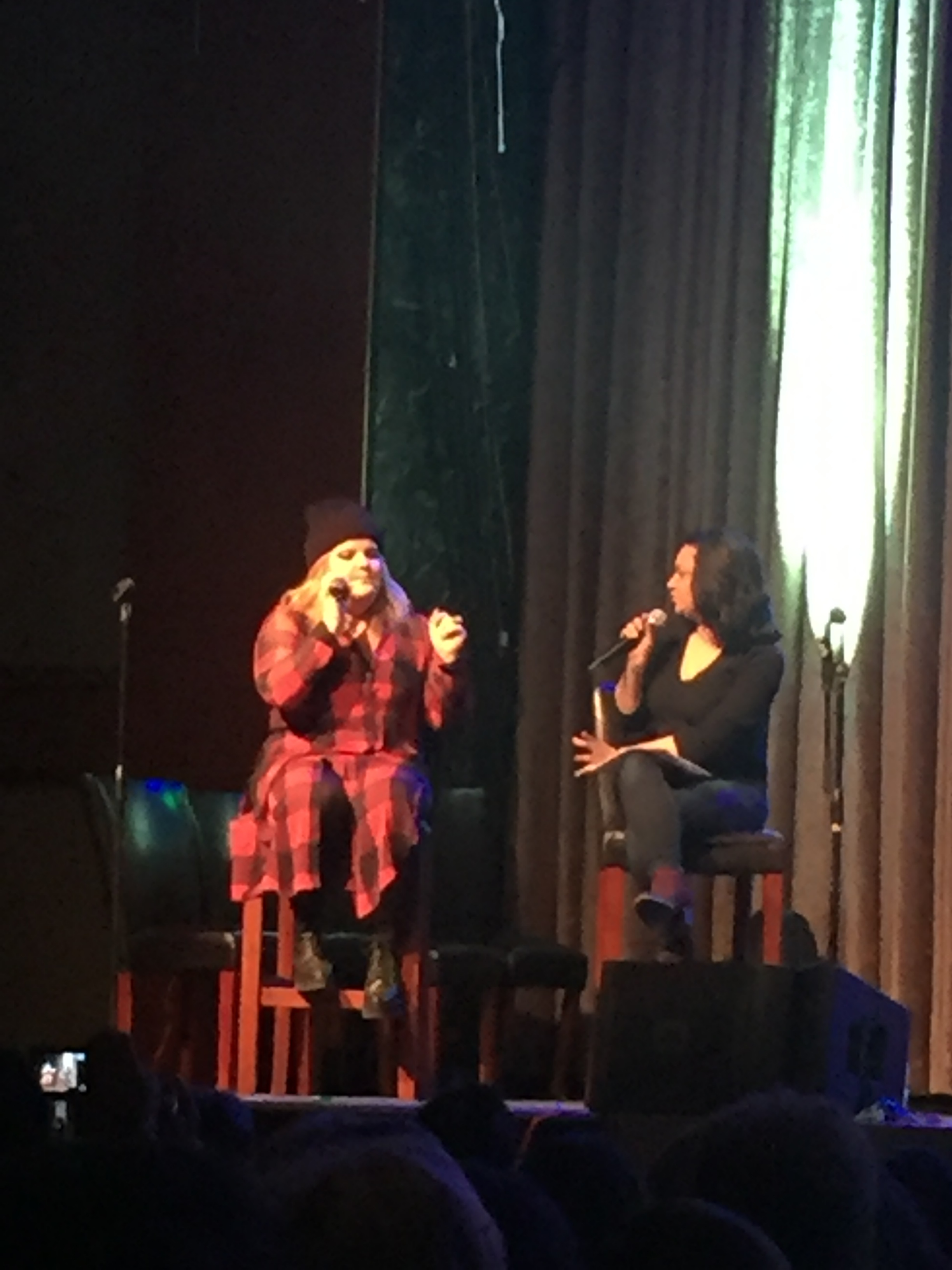 Day Two - Saturday, January 23rd, 2016
Day two started out with an L Train delay and I almost missed the BroadwayCon Feud! The snow was coming down quickly and it was pretty slippery. I managed to wipe out on 6th Avenue, but I was able to save my $6 soy chai from Starbucks! (Little did I know that this fall into the snow smudged all my eyeliner and I wouldn't know it was all over my face until a few hours later...Oops.)
The BroadwayCon Feud featured two teams: one with Lesli Margherita, Rob McClure, Susan Blackwell and two fans and another with Jonathan Groff, Ryann Redmond, two fans and another Broadway celeb, that I didn't know. The game show was hosted by Jen Colela (If/Then) and she made light of being a lesbian and even finding Jonathan Groff attractive. Susan kept pestering Jen about when "all the making out" was going to happen, which they immediately shared a kiss on stage. Jen would then go on to kiss Jonathan saying "I'm not stupid," and then Jonathan kissed the fan on the opposite team (fueling jealousy in so many other fans in the audience). I can't remembe any of the questions or who won, but I had a great time witnessing the Feud!
I then went onto a live version of Side by Side with Susan Blackwell, as she inteviewed Ann Harada and Ryann Redmond. Susan chatted with the ladies in her hilarious and uncensored interview style; asking them audition questions, favorite song to sing, theme songs, etc. All in all, a great time and what a wonderful opportunity to be sitting less than 10 feet away from Susan, the original Christmas Eve from Avenue Q and Bridget from Bring It On!
After that, I stayed in the same room for "I Can Do That!: Broadway Siblings" that featured three families who all are involved in the Broadway community. Hosted by Michael Gioia from Playbill, he asked the sibilings about what it was like growing up, their competitive nature, how they got involved in the business and what it's like to work together. The panel featured a few families that I didn't know, including the Alers sisters, Karmine and Yassmin, who are in On Your Feet! together and had previously both been in companies of RENT, but not at the same time. The highlight of the panel for me was seeing the Keenan-Boglers; Celia (The Glass Menagerie, Peter and the Starcatcher, Spelling Bee), Andrew (Tuck Everlasting, Newsies) and Maggie (Honest Accomplice Theater). It was fun watching everyone interact with each other and share stories about growing up; particularly the Keenan-Bolger's being in The Secret Garden together and Celia getting cast as Martha instead of Mary!
My next stop was a panel about Production Assistants who are now on the Broadway stage or working behind the scenes as Directors or Stage Managers. It was another opportunity to see Ann Harada, who started as a PA at the Vineyard Theatre and then made the jump to being on the stage. I also had the opportunity to see Lonny Price and Ted Chapin, the President of the Rodgers & Hammerstein Organization. Everyone on the panel had great insight of what it takes to make it in the business, if your desires are not to be on the stage and infront of an audience.
The last stop for me on Saturday was the Funny Girls panel with Susan Blackwell, Ann Harada and Lesli Margherita. The MTA was shutting down train service around 4pm, so I skipped the Costume Designer panel for a few laughs. The room was packed, but a lot of the topics had been covered in Susan's panel from earlier in the day, so I left to take the train home. Although, I had to forego the Keenan-Bolger Survival Guide, Disney & Modern Musicals sing-a-longs and the Broadway Team Quiz, I didn't want to shell out any money to book at room at the Hilton and figured it would be worth going home and getting home safely.
The streets of Midtown were eerily empty, as all traffic ceased around 2:30pm. I made it home in one piece, but couldn't help the feeling of FOMO as I watched some of the other panels throug various social media channels from my home. However, many Broadway stars were not able to make it to the Convention, since the snow kept them in Jersey or outside of the city with no way to make it in. My biggest regret, "wasting" my Audrey II t-shirt for Saturday, since I was only there for 5 hours; but she will live to see another day.
Day Three - Sunday, January 24th, 2016
For the third and final day of BroadwayCon, I put on my Neil Patrick Harris as Hedwig t-shir and went on my way back to Midtown. Post snowstorm, the MTA was having a little trouble getting the trains up and running again. I waited almost 50 minutes for the L and made sure that I was on the first train with room. Luckily, I made it to the Hilton before the 11am panels, but missing the 10am panel on social media and marketing. With some time to kill, I wandered into the BroadwayCon Museum, where I ran into Kevin & Jackson from "The Ensemblist" podcast. (One of my favorite podcasts to listen to when I travel! Started by Nikka Graff Lazarone and Mo Brady, each session features ensemble members of shows and covers a variety of topics.) After introducing myself, we perused the collection in the Museum, which featured some of Daphne Rubin-Vega's original Mimi outfits from RENT, a mock up of the Hamilton set design, outfits from School of Rock and Bob Fosse's Directors Chair!
My first stop was "Insiders, Outsiders and Masked Avengers: Your Role in the Broadway Community" which was a panel about how social media has changed the way we interact with our favorite Broadway celebrities. The panel featured Aaron J. Albano (Newsies, Here Lies Love, The King & I), Andrew Briedis (Annoying Actor Friend on Twitter), Laura Heywood (@BroadwayGirlNYC), Patrick Hinds (Theatre People Podcast), Nikka Graff Lazarone (The Ensemblist Podcast) and Erin Quill (Avenue Q). I grabbed a seat by Jackson & Kevin and we listened to the panel discuss their own experiences about interacting with the Broadway community. Aaron talked about the Newsies #fansies phenomenon and how the various cast members responded to their new found fame and recognition. Andrew talked about his anonymous profile on Twitter until the last few months and how he differentiates his own account from Annoying Actor Friend. Nikka touched on working with various performers and how The Ensemblist contributes as an outlet for "outsiders" to understand what goes on behind the scenes. Before the panel, I did not know much about the other panelists but immediately felt a connection to Erin Quill's experience as an Asian-American woman in theatre (her casting stories reminded me of what dating in NYC feels like for me), Patrick had lots to saw about his own fan experience with theater and Laura talked about her "side job" of running Broadway Girl and how it's allowed her to have a hobby outside of her normal, working life.
As anyone who knows me understands, I have a slight obsession with So You Think You Can Dance, so I knew I HAD to go to the "A Dancer Dances" panel next, even if it meant skipping the Something Rotten! panel. I loved hearing Jess LeProtto (Newsies, On the Town, SYTYCD 8), Paloma Garcia Lee (On the Town, Nice Work If You Can Get It) and Stephen Hanna (An American in Paris) talk about their experiences on the stage. Jess talked about his experience a bit on SYTYCD and how it prepped him for his turn in Newsies and I loved hearing Paloma talk about how she covered several tracks as the Dance Captain/Swing in On the Town. I was just a little disappointed that Ariana DeBose (Hamilton, Bring It On, SYTYCD 6) never made it to the panel.
Then it was onto an audio commentary panel with Joshua Safran showrunner on SMASH, as he went through the first episode of the second season. The room was packed and Joshua shared lots of fun stories and information about working on the show, since Jeremy Jordan couldn't make it to BroadwayCon due to the weather. While Joshua was showing clips, Ben Rauhala walked right by me and I kept wanting to say hello, but never got a chance! One day, I will make it to one of his shows at 54 Below!
On a musical high, it was off to a panel with the creative team of Waitress: The Musical. Sara Bareilles, Jessie Nelson and Diane Paulus The ladies talked about what it was like bringing the show from the ART to Broadway, where it will open this March. It was a wonderful opportunity to talk to the all-female team for the show and what some of their challenges and experiences had been. Moderated by Blake Ross from Playbill, they walked about Sara's release of the album of songs from the musical, which has only created more buzz for the show and added lots of videos to YouTube with young girls and boys singing those songs. Then at the end of the panel, Sara surprised us all and sat down at the piano to play "She Used to Be Mine," which didn't leave a dry eye in the house!
I had originally planned on going to the Jeremy Jordan and Joshua Safran autograph session, but since Jeremy couldn't make it and I didn't want to stay around for another hour and a half, I left before the Closing number. All in all, I had a great time at BroadwayCon and I can't wait to come back next year!