Show/Venue: Tuck Everlasting at the Broadhurst Theatre
Date: Wednesday, May 4th, 2016 @ 2pm
Starring: Andrew Keenan-Bolger, Carolee Carmello, Robert Lenzi, Sarah Charles Lewis, Michael Park, Terrence Mann, Neil Haskell
Is it strange that I never read Tuck Everlasting or watched the movie before I went to see the musical? Maybe? But as an Andrew Keenan-Bolger fan, I was anxious to see it, especially after hearing so many good things about the show after it's out of town tryout in Atlanta. AKB also mentioned at BroadwayCon that Jesse was easily one of his favorite roles that he's played to date. However, my friends had given me some mixed reviews; saying it would "do well regionally" and that it wasn't as grand as they had expected, but I went into the show with an open mind.
Through TodayTix, I was able to get a fourth row, center seat; which was great for all the dances and larger production numbers. Since it was a Wednesday matinee, the theatre was crowded with school children, lending to the excitement and noise level in the theatre. As the show started, the audience gets introduced to the Tuck family; Mae (Carolee Carmello, reprising her role from the Atlanta production), Angus (Michael Park, also from the original), Miles (Robert Lenzi, originating the role on Broadway) and Jesse (Andrew Keenan-Bolger, also from the original). The Tuck family found their way into the woods of Treegap, where they found a spring and drank from it. Little did they know that the spring would stop their aging process and they could never die ("Live Like This").
Moving ahead several years, we see the Foster family; 11-year-old Winnie (Sarah Charles Lewis, in her Broadway debut), Mrs. Foster/Mother (Valerie Wright) and Nana (Pippa Pearthree), in mourning dress, after the passing of Winnie's father and Mrs. Foster's husband. It has been over a year since his passing and Winnie is excited to go to the fair, which is passing through Treegap and for a chance to get out of her gloomy clothing. After a short argument with her mother, Winnie laments about always being the good girl ("Good Girl Winnie Foster") and runs into a Man in a Yellow Suit (Terrence Mann, Pippin) who works with the fair. He performs a few magic tricks, showing Winnie that he can accurately guess her age by looking into her eyes ("Join the Parade") and tries to convince her to come to the fair. It's then that Winnie's demeanor changes and she follows her pet toad into the woods around her property ("Good Girl Winnie Foster (Reprise)").
As she runs into the woods, she sees Jesse; who is back in town to reunite with his family after being apart for 10 years. Jesse fears that Winnie has seen him drink from the spring, but distracts here with a tale of imagination and tree climbing ("Top of the World"). During this scene, I was thankful for my seat as the tree reveals a sort of bridge and swing, while Jesse & Winnie climb through the branches and leaves. Shortly thereafter, Miles appears and Jesse reveals Winnie. Fearing that Winnie knows too much about the spring, Miles throws a blanket over her head and carries her back to the Tuck home.
Back at the Foster home, Constable Joe (Fred Applegate) and his apprentice, Hugo (Michael Wartella) are gathering information from Mother and Nana about Winnie's disappearance. Hugo cannot wait to be a real detective, but seems a big nervous ("Hugo's First Case"). Constable Joe dismisses Hugo in front of the Fosters, but soon everyone will see how observant Hugo really is.
Back at the Tuck home, Jesse & Miles bring Winnie to Mae and Angus who have to figure out how to explain their family's secret to Winnie. Immediately, Jesse wants to have Winnie stay with them, so he can have a playmate & companion, he may be 102-years-old, but he still acts like a 17-year-old. The Tuck family explains to Winnie about the spring ("Story of the Tucks"). They also explain why they can only reunite every 10 years, so no one grow suspicious of their ability to never age. As Mae finds something for Winnie to wear, they sift through trunks in the attic and Mae finds the dress that Angus proposed to her in. In a beautiful dance number, Mae recalls how her husband used to be so in love with her and how he used to look at her with passion; certainly this isn't the case anymore.
As Winnie is about to go to sleep, Jesse wakes her up; he wants them to have another adventure. He convinces her to sneak out of the house, so they can go to the fair. However, they get caught on their way out by Angus. He almost forbids them from going, but after hearing about the loss of Winnie's father, he decides to let them go out and have some fun.
Jesse & Winnie arrive at the fair and have a wonderful time; playing games, eating cotton candy and running around the fairgrounds ("Join the Parade (Reprise)" and "Partner in Crime"). In the elaborate dance number, Jesse & Winnie play with the other fair workers, as Jesse begins to fall for Winnie; if only she were a bit older. As the fair winds down, the Man in the Yellow Suit reappears with the only game left; the age guessing both. Winnie begs Jesse to stay away, but Jesse just wants to play. As the Man in the Yellow Suit stares into Jesse's eyes, he's reminded of a story that his grandmother used to tell him; one about a family that never ages. At first he guesses Jesse is 17, but after another stare, realizes that he is indeed 102-years-old! Jesse & Winnie flee the fairgrounds and escape to the top of a silo.
As the two of them sit on the silo, Jesse proposes that Winnie should drink the water from the spring in 6 years, so then she will be 17, like him ("Seventeen"). The Man in the Yellow Suit is lurking in the shadows and hears of Jesse's plan and learns that he has finally found the family he has been searching for. He then heads to the Foster home to tell them that he has found Winnie, but has a business deal for them.
The Man in the Yellow Suit realizes that he can trade Winnie in for ownership of the woods on the Foster's property, the same woods that house the spring the Tuck family has been drinking from for decades. He will then bottle the water from the spring and sell it for a profit; stay young forever and be rich! ("Everything's Golden")
Back at the house, Jesse reveals his plan to have Winnie drink from the spring in 6 years ("Seventeen (Reprise)") and the rest of the Tuck family agree that this is another one of Jesse's stupid ideas. Miles appears and sees that Winnie is dressed in the clothing that used to belong to his son, Thomas. In a scene that brought tears to my eyes, Miles tells Winnie the story of Thomas and his wife. Before the Tuck family knew about the magical powers of the spring water, Miles got married and had a child. By the time the family learned that they couldn't age, Miles' wife was convinced that he was possessed, took Thomas and left Miles alone ("Time").
Back at the Foster home, the Man in the Yellow Suit is convincing Mother and Nana to sign over the woods on their property to him ("Everything's Golden (Reprise)"), when Constable Joe and Hugo appear. They know there is something suspicious about the Man in the Yellow Suit and start questioning him, with Hugo noticing all the odd details; Mother holding paperwork for a "business transaction," that the Man cannot elaborate on. As the Man in the Yellow Suit leaves, Constable Joe and Hugo talk over the odd situation ("You Can't Trust a Man").
After Winnie learned about Thomas, Angus takes a moment to talk with her. Angus explains to Winnie why aging is important ("The Wheel") and tries to convince her that she does not need to drink the spring water. Seeing Angus as a fatherly figure, she starts to think if it's really worth spending forever with Jesse. Maybe she should experience life and grow up?
The Man in the Yellow Suit has left the Foster's home and is on the way to the spring in the woods. It's here that he runs into Jesse, gathering water from the spring to give to Winnie. The Man tries to stab Jesse, but realizes he cannot die. Shortly thereafter, the entire Tuck family appears and confronts the Man. The Man tries to grab the vial of water from Jesse, but he tosses it to Miles. The Man then grabs Winnie, puts a gun to her head and makes her his hostage. Mae then uses the butt of Angus' shotgun and hits the Man over the head, knocking him unconscious and effectively, killing him. Winnie is free, but Constable Joe and Hugo arrive and see the Man in the Yellow Suit's body. They are going to charge Mae to death by hanging; which we all know won't work, when Winnie steps up to say she did it and acted in self-defense. Constable Joe knows he cannot charge a child and encourages the Tuck family to leave Treegap and never come back.
Hugo offers to return Winnie home, as Jesse reminds Winnie to wait 6 years for him. When Winnie returns home, she cannot decide what to do with the water from the spring. Does she want to grow up and have a rich, fulfilled life or should she stay 17 forever and be with Jesse? ("Everlasting") Suddenly, Winnie's toad reappears, as Hugo almost flattens him with his foot. It's then that Winnie knows what to do; she pours the water onto her toad, giving him eternal life.
In the finale ("The Wheel (Reprise)"), we see Winnie begin to grow up; she turns 17, she starts dating Hugo, they get married, they have a child (Neil Haskell, So You Think You Can Dance, Bring It On, Hamilton), her child grows up, her Nana passes, her mother passes, Hugo passes through a gorgeous and beautiful ballet.
Overall, I had a great time at the show. I enjoyed the story, even if I was a little creeped out at 30-year-old Andrew Keenan-Bolger trying to look 17 and tell a real 11-year-old to "wait for him." I was very touched by the finale ballet, watching Winnie be played by Sarah Charles Lewis, Deanna Doyle and Jennifer Smith (A Gentleman's Guide to Love and Murder) at various ages and by Robert Lenzi's solo, "Time."
It was great being so close to the stage, since I've been a fan of Neil Haskell since his appearance on SYTYCD and have seen him in several other Broadway shows. I was impressed watching him dance and the hard-working members of the ensemble, as they went through their multitude of costume changes. The big dance number in "Partner in Crime" was my favorite of the show; watching them leap, tap and twirl around the stage.
I even stayed around at the Stage Door to speak with AKB and Robert. I didn't get a chance to see Carolee Carmello or Sarah Charles Lewis, but the energy at the door was great, despite the rain. I'm not sure how much longer the show will stay on Broadway, but I hope to go back at another time to see it again and I can't wait to get a copy of the cast recording when it comes out.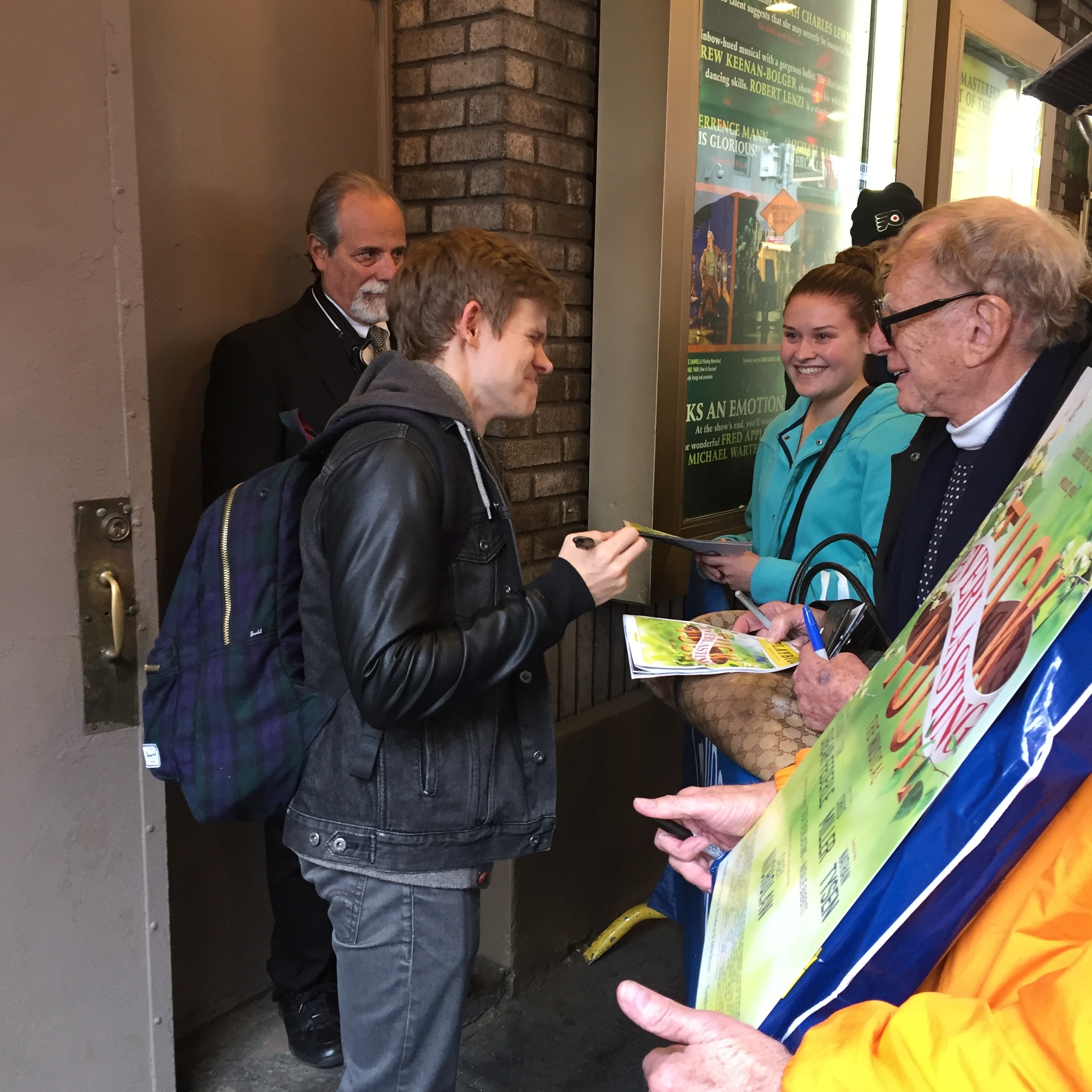 Musical Numbers:
Act One:
Live Like This
Good Girl Winnie Foster
Join the Parade
Good Girl Winnie Foster (Reprise)
Top of the World
Hugo's First Case
Story of the Tucks
My Most Beautiful Day
Join the Parade (Reprise)
Partner in Crime
Seventeen
Act Two:
Everything's Golden
Seventeen (Reprise)
Time
Everything's Golden (Reprise)
You Can't Trust a Man
The Wheel
Story of the Man in the Yellow Suit
Everlasting
The Wheel (Reprise)