Show/Venue: Dear Evan Hansen at The Music Box Theatre
Date: Wednesday, November 16th, 2016 @ 8pm & Thursday, May 25th, 2017 @ 7pm
Starring: Ben Platt, Michael Park, Rachel Bay Jones, Jennifer Laura Thompson, Laura Dreyfuss, Mike Faist, Kristolyn Lloyd, Will Roland
Website: http://dearevanhansen.com/
I have a difficult time explaining the brilliance of Dear Evan Hansen to my non-theatre friends; the plot is a tough one, but the music is astonishing and the acting is superb, so let me see if I can capture it for you. I started my experience at Evan Hansen, after seeing the show in previews last year, but felt that I could only really write about the emotions after seeing it a second time. This time, I came fully equipped with a pack of tissues and knew that ugly crying would be in order at some point.
In between my two experiences at the show, the cast album has come out, Pasek & Paul have won an Oscar for La La Land and the show has received numerous Tony Award Nominations, including a well-deserved Best Actor nod for Ben Platt.
The show follows anxious teenager, Evan Hansen (Ben Platt, Pitch Perfect, The Book of Mormon), composing a letter to himself, per his therapist's prescription. His single mom, Heidi (Rachel Bay Jones, Pippin), is encouraging him on his first day of school and that it's going to be a "good day," perhaps a "good year," for them both. Evan is hesitant, as we can feel his anxiety and nervousness, about having to talk to people and be social. Heidi suggests that he can make friends by having his classmates sign the cast on his left arm, which he broke over the summer from falling out of a tree. Heidi emphasizes how proud she is of Evan, which only seems to add to the distance between them. Heidi heads off to work as a nurse's aide, but reminds Evan she won't be home that night, since she must attend school. Evan only nods, as it seems he is used to being left at home alone often.
As they struggle to connect, the audience is introduced to the Murphy family: Cynthia (Jennifer Laura Thompson, Nice Work If You Can Get It, Urinetown), Larry (Michael Park, Tuck Everlasting), Zoe (Laura Dreyfuss, Once, "Glee") and Connor (Mike Faist, Newsies), who are also struggling to relate to one another. The mother's mutual struggle with their own families is revealed ("Anybody Have a Map?").
Evan walks into his first day of school and runs into Alana (Kristolyn Lloyd, in her Broadway Debut), an overachieving student, who asks Evan how his summer was, but is quick to speak over him and prove that she had an even busier summer. Evan seems exhausted from this conversation, when he runs into his only friend, Jared (Will Roland, also in his Broadway Debut), who is quick to point out that they are only "family friends," and he only speaks to Evan, so his parents will continue to pay for his car insurance. Neither of these friends take Evan up on his offer to sign his cast, then as he turns away, Connor rushes into school and pushes Evan to the ground. Seeing Evan get bullied, Zoe, Evan's longtime crush & Connor's sister, runs over to check on him. He insists that he is fine, but wonders if he will always feel this alone and invisible ("Waving Through a Window").
At the of the school day, Evan is in the computer lab, printing out one of his "Dear Evan Hansen" letters for therapy. It's then that he notices that Connor is also in the computer lab and has found his letter in the printer. Connor offers to sign Evan's cast, so that they can both feel like they have a friend. Grabbing Evan's arm, Connor writes "CONNOR" in large letter across the length of Evan's cast, almost branding him. Still holding Evan's letter, Connor begins to read it; noticing that it mentions Zoe and Evan's feelings for her. Connor takes this as an insult to him and runs out of the lab, taking the letter with him.
Over the next few days, Evan sees no sign of Connor at school and begins to delve deeper into his anxieties. What if Connor uses this letter against him? What if he shares it with the whole school and everyone finds out about his feelings for Zoe? One day, Evan finds himself called into his school Principal's Office, where he meets Cynthia and Larry Murphy, Connor's parents. Evan is confused as to why he is there, but Cynthia realizes that she must explain that Connor is no longer with them; he has taken his own life. As Evan starts to absorb this information, Cynthia produces Evan's therapy letter, which she and Larry believe is Connor's suicide note. They believe that Evan was/is Connor's only friend and invite him over to their house for dinner to learn more about their relationship.
Not knowing what he's gotten into, Evan confides in Jared, who mocks him and knows that he is an awful liar. Jared advises Evan that he shouldn't try to make up a story, but to just nod in agreement to whatever the family tells or asks of him. Of course, at dinner time, Evan begins to fall apart and makes up a vast story about how he & Connor were friends, best friends ("For Forever"). He tells the family about their adventures, visiting the abandoned apple orchard and the feelings that they would share. Zoe and Larry are skeptical about the whole situation, but Cynthia is clinging onto hope that her son had a friend and some good in his life. In his desperation, Evan tells the Murphy's that he and Connor had a secret e-mail correspondence and he can share with them their relationship.
As Evan is explaining this to Jared, Jared laughs and is convinced that Evan will never get away with this lie. However, he decides to help Evan make all the fake e-mails, egging Evan on that it sounds like he & Connor had a secret gay relationship ("Sincerely, Me"). It's here that Connor comes back on stage to sing his "e-mails" to Evan, as Jared types out what they were writing back and forth to each other.
Back at the Hansen's home, Heidi tries to find a way to relate to her son. She knows that college is impending and that they will not have the money to send Evan to college. She produces a bunch of scholarship applications and promises that they will go through them the next week on "taco Tuesday," she'll skip work and spend some time with him. This seems to brighten Evan's mood, as Heidi leaves him, again.
After working with Jared, Evan brings a stack of e-mails between himself and Connor over to the Murphy's house at dinnertime. Cynthia is emotional, trying to understand that her troubled son had a friend. Larry is disappointed that Connor never appreciated what they did for him; therapy, rehab, etc. Zoe can't seem to believe that Connor was ever nice, as he was always awful to her and threatening to kill her ("Requiem").
After Zoe notices her name in Connor's suicide note, she asks Evan if there were other things she didn't know about her brother. Evan tries to conceal his own feelings for Zoe through Connor's view, but struggles ("If I Could Tell Her") and his adorations comes out when he leans in and kisses her and she tells him to leave.
Barely a week or two after Connor's suicide, Evan notices that people at school are starting to forget about Connor, and thus, will forget about Evan. He decides to act and found "The Connor Project" to remember Connor and to help raise money for other troubled teens. Alana and Jared join Evan in the endeavor and get the Murphy's to help fund the project ("Disappear").
At the all-school assembly and launch of "The Connor Project," Evan must give a speech about his friendship with Connor. Evan fumbles with his note cards, shuffling them back to the first, dropping one on the ground and falling onto the stage. He slowly regains his composure and goes on to deliver an inspiring speech about his friendship with Connor ("You Will Be Found"). Evan's speech goes viral and Zoe slowly starts to realize the impact that Evan has had on Connor and she kisses him.
In the aftermath of Evan's viral video, Alana and Jared decide to start a Kickstarter campaign to raise money in Connor's honor. This money will be used to reopen the apple orchard where Evan and Connor used to hang out (but not really). However, Evan starts to spend more and more time with Zoe, thus spending less and less time with "The Connor Project" and his mother. By hanging out with Zoe and the Murphy's, it's like he's found the family that he has always wanted to be a part of. Connor reappears to Jared, proving to Evan that by distancing him from "The Connor Project," he might be losing his new-found friends, too ("Sincerely, Me [Reprise]").
When Evan gets home, Heidi confronts him about his relationship with Connor. She tells Evan that she has seen his video about Connor and "The Connor Project" and can't seem to understand why he wouldn't share this information with her and how he denied knowing Connor when she asked him about it the first time, weeks ago. Evan then throws Heidi's constant absences in her face and flees to the Murphy's house. Once there, he finds Larry in the garage, and they go through a box of old sports memorabilia, looking for things to auction off for "The Connor Project" and the Kickstarter campaign. While going through the box, Larry finds a baseball glove that he'd given to Connor, but was never used. Larry starts to teach Evan about how to properly care for the glove and comes to terms with Connor's death ("To Break in a Glove").
A few days later, Zoe finally gets the chance to see Evan's house and they're talking in his room. Evan mentioned that they have the whole house to themselves, as Heidi is rarely around; which Zoe seems startled by. Evan begins to talk more about his relationship with Connor, when Zoe interrupts him; she wants the chance to just be with him and not talk about her brother ("Only Us").
As Jared struggles to stay connected to "The Connor Project," he points out to Evan that Connor's death was the greatest thing to happen to Evan, as it increased his popularity. Evan tries to deny it, but deep down he knows that what Jared is saying is true. Evan escapes by hanging out with Zoe and heading to the Murphy's house for dinner, only to discover that his mom is already there. After hearing that the Hansen's don't have the money to send Evan to college, Zoe intervenes and the Murphy's offer the money that they had saved for Connor's college education to Evan and Heidi. Shocked that not only did she not know that Evan was spending so much time at the Murphy's, but that he has shared their money problems with them, Heidi storms out of their house, declining their invitation for dinner.
Back at the Hansen's home, Heidi and Evan fight. Heidi is upset that her financial struggles have been shared with strangers and Evan blames his mother for never being around, the real reason he's been spending more and more time at the Murphy's; they're the family he has never had. Shortly after, Alana has found several discrepancies in Evan and Connor's e-mails and she starts to wonder if they were really friends. Evan starts to think that everything is falling apart and he goes to Jared for help, but as Evan left Jared alone before, even he won't come to the rescue. The three of them lament about how Evan has changed and only been looking out for himself ("Good for You").
Evan's guilt starts to mount and Connor reappears, trying to encourage him to keep up the lie. After all, the lie is the only thing keeping Evan popular at school and a source of relief to the Murphy's, and keeping Zoe with Evan. Evan tries to quiet Connor's voice in his head, but he's nearing his breaking point and really wants to come clean about the whole situation.
Desperate to stay in the lie, Evan goes to Alana, who remains cautious about the whole story. In a last-ditch attempt, Evan says that he can prove his friendship with Connor and produces Connor's suicide note (a.k.a. Evan's therapy letter). Alana is shocked by the letter and says this is just what "The Connor Project" needs to gain more momentum! They can post the letter online and people will go nuts for it and the money for their Kickstarter campaign will start pouring in. Evan immediately objects to posting the letter, knowing the full truth, but he can't stop Alana. She posts the letter online and suddenly the Murphy family is thrust into the spotlight. All sorts of bullies come out and start attacking the family for not preventing Connor's suicide.
Evan arrives at the Murphy's house to find them all fighting with each other about the bullies, Connor, their family; everything. Becoming more and more agitated with all the yelling, Evan bursts out and confesses that he never knew Connor ("Words Fail"). The family cannot believe what they are hearing from this boy that they trusted and Evan runs out of their house and back to his own.
As soon as he arrives at home, Heidi is waiting for him. She has seen the letter posted online and knew immediately that it was one of Evan's therapy letters and that something darker was going on with him, something darker than she could ever have known. It's here that Evan alludes to the fact that he didn't fall out of a tree last summer, he threw himself off the branch on purpose. To comfort her son, Heidi recalls the day that Evan's dad left ("So Big/So Small"). It broke her heart when Evan saw the U-HAUL truck come and take his dad away, but when he asked if "is there another truck coming to our driveway? A truck that will take Mommy away?" was when Heidi knew that she would never and could never abandon her son.
Another year passes and Zoe is in the apple orchard, reopened and named in Connor's honor. It's here that Evan meets her and they catch up on the last year. The Murphy's never exposed Evan's lie, but they haven't stayed in touch at all. Zoe tells Evan that even if his story was made up, everyone needed that story; it helped bring her family back together. Zoe leaves the orchard and Evan composes another "Dear Evan Hansen" letter, ending on it being a "good day."
Since seeing the show in November, and then, seeing it again in May, I noticed a few changes; but that could have been since my own experience viewing the show had changed. Going into my first viewing, I had only a basic idea of what the show was about, I only knew "Waving Through a Window," and knew that Ben Platt was earning rave reviews for his performance. I knew that I was going to get emotional, but I had to focus my attention on catching all the plot points and trying to understand all the lyrics in the context of the story. For my second viewing, I could sit back and enjoy everyone's performances. Armed with all the songs and lyrics from the cast album, I knew what to anticipate in the story and really sat back to just observe and absorb the show.
During the second showing, I could easily see why all my theatre friends have been going on and on about Ben Platt's performance. The nervous ticks, the sweaty brow, the ability to cry and to ugly cry, at that. Everyone keeps saying that they can't understand how he can go through this performance 8 times a week, and he's been doing it for years! I wonder how he can shed the skin of Evan when he gets home and how he doesn't carry some of that anxiety with him, wherever he goes.
Laura Dreyfuss' voice was even more raspy and beautiful than I could remember. I didn't get to see her in Once and can't remember her for the life of me on "Glee," but the quality and tone of her voice, certainly made an impression on me. At the end of "Requiem," my heart broke for Zoe and how no one could understand how she really didn't love Connor.
The comedic relief comes from Jared and Connor. Will Roland is perfect in his own nerdy moments, but plays to Evan's weaknesses and neurosis; highlighted in "Sincerely, Me" and later in "Good for You." Mike Faist certainly knew how to shed his Newsies persona, to become the troubled Connor and gets a few funny moments, as he comes back to haunt Evan. Mike gets the chance to show off his vocals, which were a little lost in the large ensemble of Newsies.
As Larry, Michael Park, had a few awkward moments the first time I saw the show. I didn't understand his character and why he was so stand-offish. Having seen him in Tuck Everlasting, where I loved him as Angus Tuck, I expected a similar reaction in this show, but it wasn't the same type of role. One of my friends pointed out that his song, "The Wheel," in Tuck Everlasting was slightly like his character's arc in this show and "To Break in a Glove" helped complete that. I'm still hoping he'll do a mash-up of the two songs, someday!
The other highlight for me, besides Ben Platt, was Rachel Bay Jones. I saw her years ago in Pippin, but I didn't care for that role. I did love the raspy, rocker-edge tone in her voice, but something about her character didn't connect with me. Oh boy, did she prove me wrong in this show! From "Good for You" to "So Big/So Small," Heidi had me wrapped up around her little finger. I completely empathized with her pain as a single mom and how she needed to protect Evan. I loved watching her Broadway.com "Show People" interview with Paul Wontorek and learning about her past in the theatre and what kept her away from the stage before making her return in Pippin. She became so relatable to me and I really latched onto her character for this second showing.
Dear Evan Hansen, is truly a work of art, but one that takes a lot out of you emotionally. My second time seeing the show was for my friend, Katie's birthday and both of us were wiping away tears when the curtain call happened. It's one that I could see over and over, but it would exhaust me. Perhaps when the cast changes over, I'll make my way back, but for now, I'm easily satisfied with my two experiences.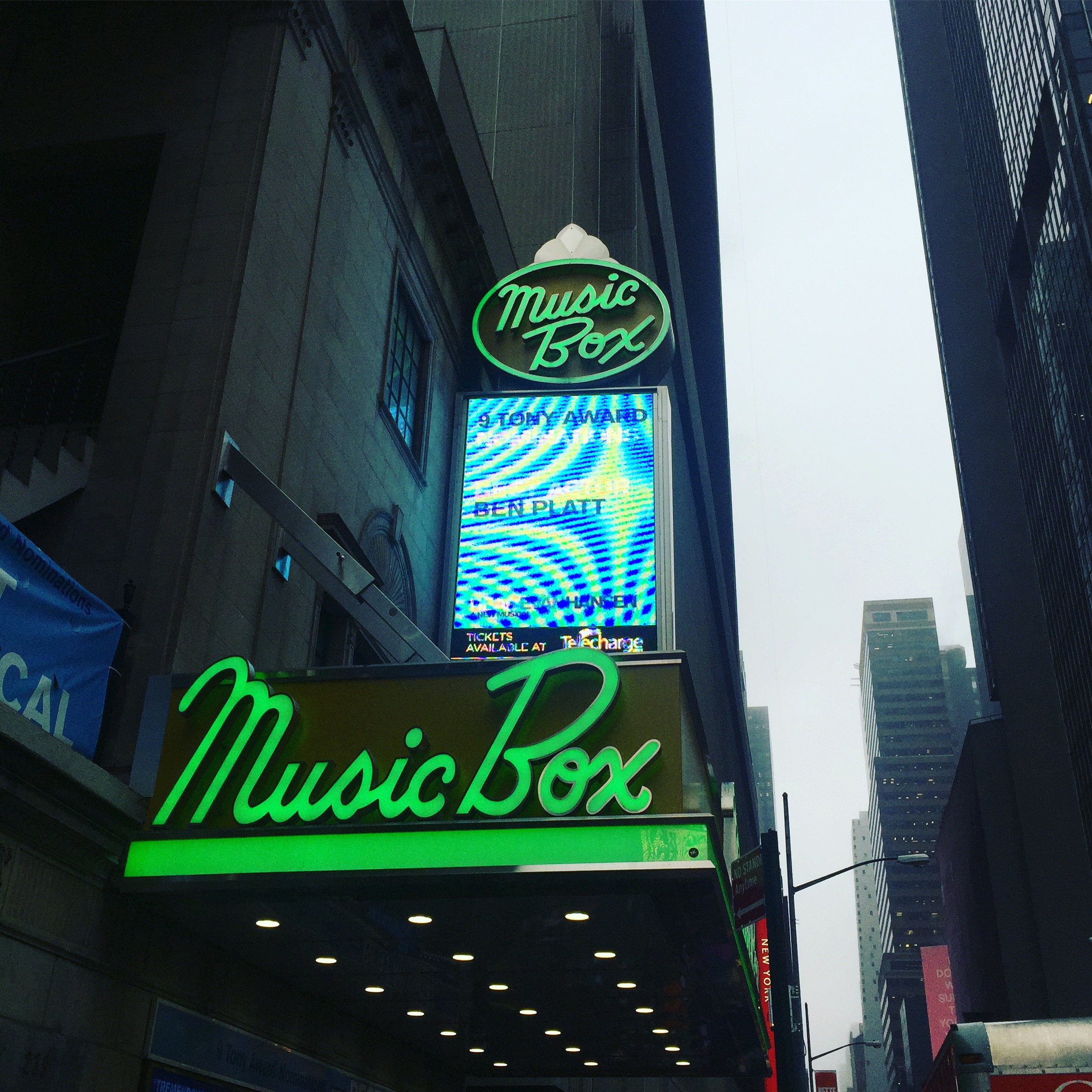 Musical Numbers:
Act One:
Anybody Have a Map?
Waving Through a Window
For Forever
Sincerely, Me
Requiem
If I Could Tell Her
Disappear
You Will Be Found
Act Two:
Sincerely, Me (Reprise)
To Break in a Glove
Only Us
Good for You
You Will Be Found (Reprise)
Words Fail
So Big/So Small
Finale